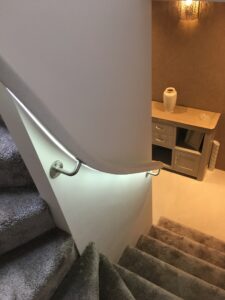 Illuminated Handrails – a brilliant new concept in the Handrails of Distinction range.
We have introduced a translucent version of the Corian® material into which we insert LED lighting to produce a ribbon lighting effect which follows the full sweep of the handrail.
A simple concept but one which has wide ranging potential for staircase designs.
The handrail maintains all of the inherent features of our standard Handrails of Distinction range but allows the application to be extended to functions such as staircase feature lighting, staircase sector lighting and guide lighting, features which can greatly enhance the safety characteristics of a staircase.
The illuminated rails can also be integrated into an emergency lighting system providing a continuous staircase guidance facility to assist in emergency evacuation of premises.
Charles Crowson Illuminated Handrails of Distinction: innovative, versatile, elegant and safety enhancing. The flawless solution to staircase and balustrade design for all applications!